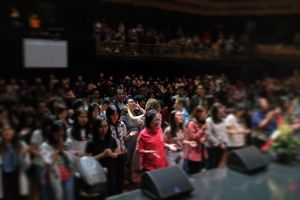 Alma Rivera is an international Gospel singer, evangelist, music\movie producer  &  ordained minister. 
Alma Rivera was born in Mexico City where she accepted Jesus as her Lord and Savior at the age of 11.  and became a US citizen 2 years ago. 
She travels around the world sharing the Gospel of JESUS. During her "Revival Nights," thousands of people received salvation, freedom from oppression, and supernatural healing in America, Asia, and Africa. 
Alma in 2020, was getting ready to embark on a worldwide tour to over 6 countries including Indonesia, South Africa, Malaysia, Singapore, Canada, Philippines, to name a few. However, COVID-19 threw a curve ball. But where many award winning gospel singers and ministries stopped, she stood up! 
She went from the stage to the streets. 
Alma Rivera is part of the World Prayer Network   She recently spoke this summer at the annual Well-Versed Conference in Washington DC.
On Feb 1st, 2023 Alma  Rivera Joined Dr. Jim Garlow, Tony Perkins, Anne Graham Lotz, Michele Bachman, The Speaker of the House Kevin McCarthy, and several members of Congress for the  "The National Gathering for Prayer & Repentance" at the Museum of the Bible - Washington D.C.
She has ministered to members of Congress, United States Senators, and former NY Mayor Rudy Giuliani, and was asked to pray over former Secretary of State Mike Pompeo. 
Rich and Alma hosted  "The Pursuit" tent revival at Cornerstone Church. Hundreds  received salvation  and there were multiple supernatural healings
Alma Rivera has performed and shared the Gospel in Times Square NY multiple times the most recent being reported by the Christian Post, a news website averaging 10 million visits per month. It describes homeless men coming to the stage and falling on their knees crying out to God. 
In Indonesia, Alma sang and preached to thousands with many receiving the Baptism of the Holy Spirit. There were many reported miracles. 
She has been featured on different networks like TBN, TBN SALSA, TBN AFRICA, CBN, & CLUB 700, where she gives her powerful testimony as to how she was kidnapped in Mexico at gunpoint. She testified to her assailants the love of Christ and that they could change if they chose to, She was released 6 hours later unharmed. 
She has led people to the mountaintop of praise in many churches such as Lakewood Church in Houston Texas,  The River church in Tampa Florida, Christian Cultural Center in Brooklyn, New York, Cross Church in Rogers Arkansas, Angelus Temple in Los Angeles California and Hezekiah Walker's Love Fellowship Tabernacle in Brooklyn New York.
Alma and Richard are currently producing a movie that will be shown in at least 1000 theaters nationwide
Alma is a very happy, enthusiastic, and determined person, who loves God with all her heart. She showcases a multicultural background through her preaching & music. She now lives in New York and is married to Richard Rivera who is also her manager.
,.