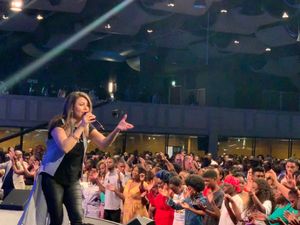 NEW SINGLE FREE DOWNLOAD-
Your name- Cry of the broken
Alma Rivera
Recording artist Alma Rivera has just released her single and Music Video "Great God" 
The song, Great God, co-written and serenaded by Alma, is composed of her quiet and personal conversations with her number one love and friend. 
Starting in helplessness wrapped in hopelessness and ending in a defeat shattering victory, Alma will take everyone who soaks in the lyrics to the highest peak in celebrating that God is Great. 
This was song was born from a longing hope and wrenching desire for the world to vividly see a "shining like a diamond" panoramic burst of a Great God's adoration for His creation.
Livin' In your Love
Alma Rivera
0:00/4:32

0:00/5:54

0:00/6:01